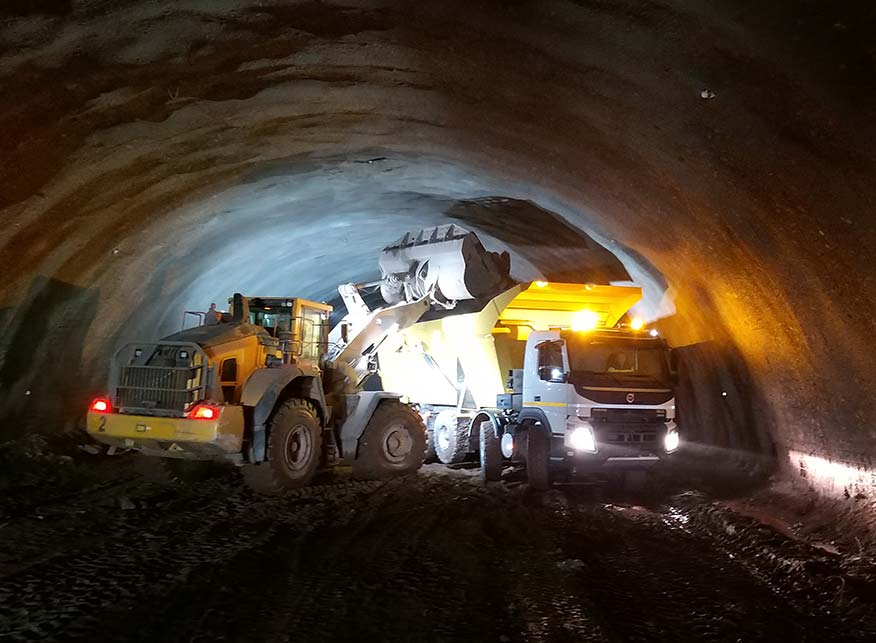 After a successful deployment of a demo vehicle, PORR Group signed an order for five new Volvo FMX 10x4 tippers. The trucks will be deployed in a tunnel project in Poland. The demo period lasted two weeks in early March, but already after the first week PORR was convinced. The demo truck stayed in Poland and four extra 10x4 tippers were ordered. These will be delivered from stock in April.
TUNNEL PROJECT POLKOW S3
PORR is an Austrian company active in the construction of tunnels worldwide. The tippers will be deployed on the "Bolków S3" project in Poland, where 2 tunnels are being constructed: a 2,300-meter tunnel and a 320-meter tunnel. Six times a day, 400 tons are detonated, making the tunnel two meters deeper. The material should be driven out as quickly as possible after the explosion. Our BAS Mining tippers are used for this. The advantages for PORR: the highest possible loading capacity and therefore as few movements in and out of the tunnel as possible. The project will run until the end of February 2022.
TRAINING & SERVICE
The maintenance is carried out by PORR itself, in collaboration with the local Volvo Trucks dealer. The technicians on site are trained by BAS Mining Trucks, as are the drivers who will drive the tippers.