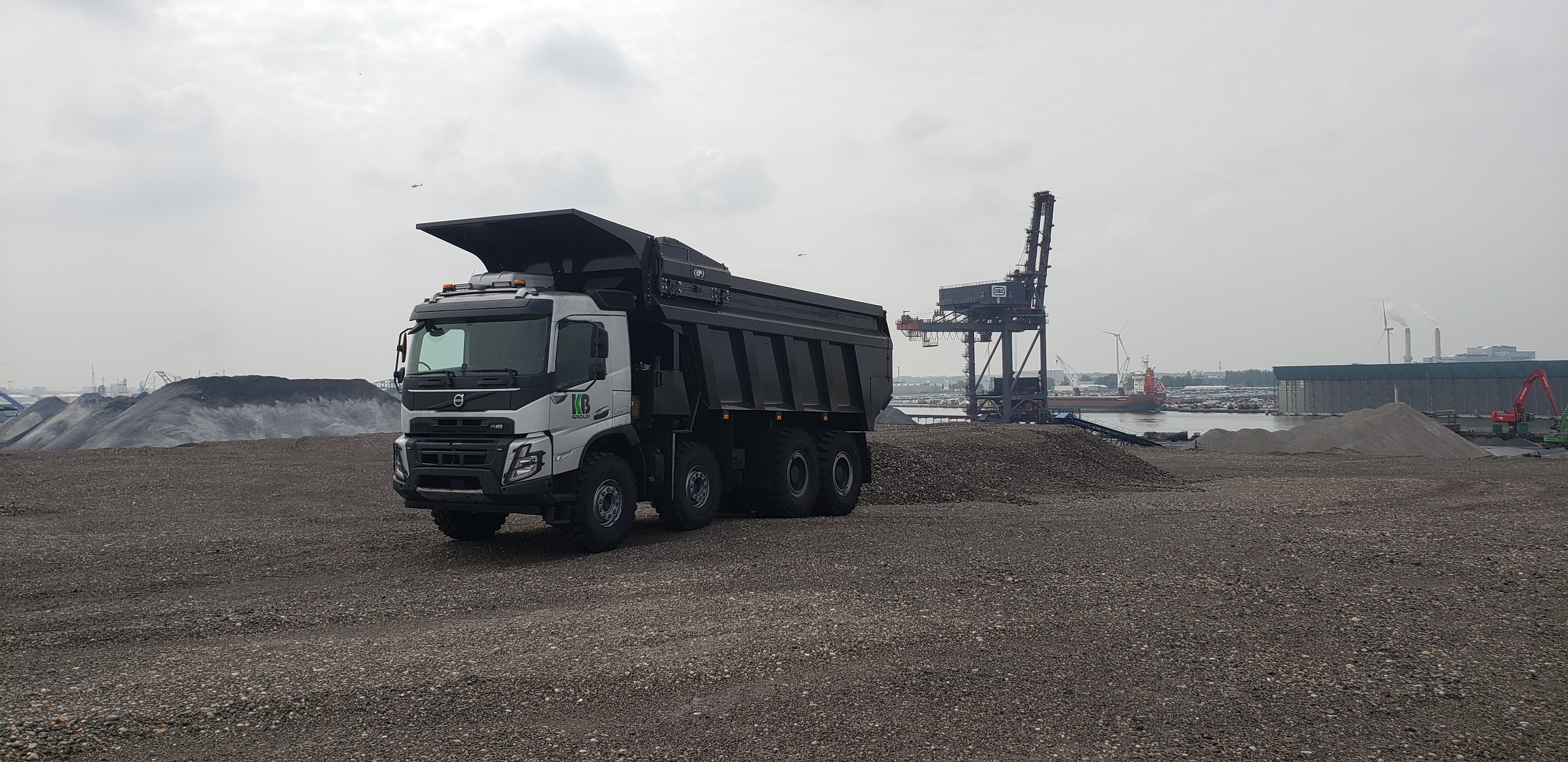 BAS Mining Trucks recently delivered an 8x4 widespread pusher with single mounted tyres to KB Handel. This is already the third BAS Mining truck that KB takes into operation at the OBA in Amsterdam, The Netherlands. The 8x4 widespread pusher with single mounted tyres has a payload of 40 tonnes and will be used to transport asphalt granulate over a short distance of max. 400 meters.
QUICK & SAFE
KB chose for this configuration because the pusher has to make a steep climb from the harbor -where the pusher is loaded- to the top of the stockpile -where the pusher is emptied-. The single mounted tyres provide the highest traction and due to the widespread configuration, the truck has a high driving-stability. The chassis of the 8×4 configuration is shorter than the 10×6 pushers that are also in operation at the OBA terrain, with a turning radius of only 9750mm. This makes it easier to maneuver on the top of the stockpile and because of the pusher system, the truck can unload safely into a steep ramp.
WIDESPREAD & SINGLE MOUNTED TYRES
The 8×4 widespread pusher with single mounted tyres is a new configuration in the truck range of BAS Mining Trucks. The configuration of the tandem allowed the tyre size to be increased to R25 and to keep the spring suspension, which makes the truck cheaper than by using hydraulic axles as in the standard 8×4 with single mounted tyres. This truck is engineered to perfection, keeping in mind the promises BAS Mining Trucks makes to its customers:
1. LOWEST COST PER TONNE | Increased production with more payload and better stability
2. CUSTOM-MADE TRUCKS | Improved cycle times with better traction and ground pressure
3. SAFETY | The pusher system for safe unloading on uneven and soft ground
PROJECT DESCRIPTION
The OBA is the gateway in IJmuiden & Amsterdam for dry bulk cargo destined for the Northwest European market. The largest bulk carriers from all over the world moor at their quayside. As an important logistics service provider, OBA specialises in the storage, handling and transshipment of bulk goods for various load-bearing sectors of the economy.