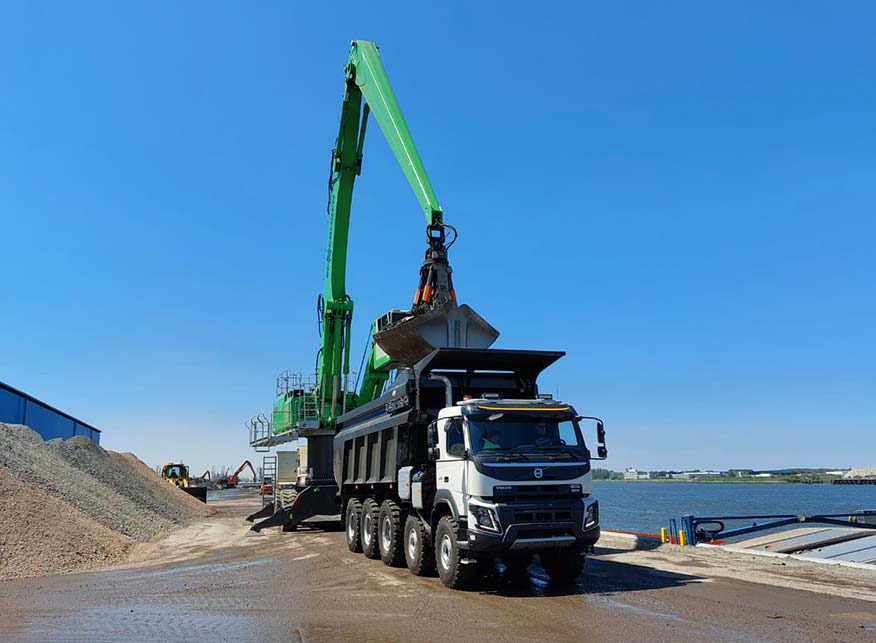 A new BAS Mining 10x6 pusher with single mounted tyres has been delivered to REKO Recycling. The truck will be used to haul coal tar asphalt from the port to the dumping area over a distance of 500-1000 meters. REKO chose this truck because of its large capacity of 50 tonnes, which means: high productivity & efficiency.
REKO is a recycling company that uses a unique sustainable thermal cleaning process to recycle mineral waste into high-quality raw materials for the asphalt and concrete industries and the civil engineering sector. In this process environmentally hazardous substances are completely destroyed. In addition, high-quality raw materials are produced and the heat released is converted into steam and electricity with high efficiency.
BAS MINING 10×6 PUSHER | HIGH PAYLOAD | SUSTAINABLE SOLUTION
REKO processes about 1.8 million tonnes of asphalt per year at their location in the port of Rotterdam. Coal tar asphalt is delivered by ship and loaded into the BAS Mining 10×6 pusher with single mounted tyres. The truck has 540HP and a Euro 6 engine (meeting the highest environmental standards). The pusher hauls the material to the dumping area, 500 – 1000 meters away, with a climb of 12%. REKO chose this truck mainly because of its large capacity of 50 tonnes, which means high productivity & efficiency. Why? Because less trucks are needed to unload a ship. Also much less diesel is used per tonne, resulting in lower impact on the environment. Besides that, safety was an important reason to choose for this vehicle. The pusher is the safest way to unload, because the risk of tipping over during unloading is kept to a minimum. Due to the center of gravity remaining low, the truck is also very stable.
ENERGY-NEUTRAL PROCESS
The Dutch government wants to remove tar Asphalt from 'the chain'. REKO receives tar Asphalt and cleans it thermally. The product that remains is ECO filler, ECO sand and ECO granulate in various fractions. This material is then sold to the asphalt and concrete industry. Hundreds of thousands of tons of tar-containing asphalt have already been given a new second life in circular use. The process is energy-neutral. In fact, it produces heat that is supplied to, for example, the Westland and district heating. Even the gases released during the combustion of the asphalt are captured with lime and processed into blocks that can be reused.
MAINTENANCE
The maintenance of these trucks will be provided by REKO, together with BAS Mining Trucks and Volvo Trucks Group Rotterdam (local Volvo Trucks dealer).