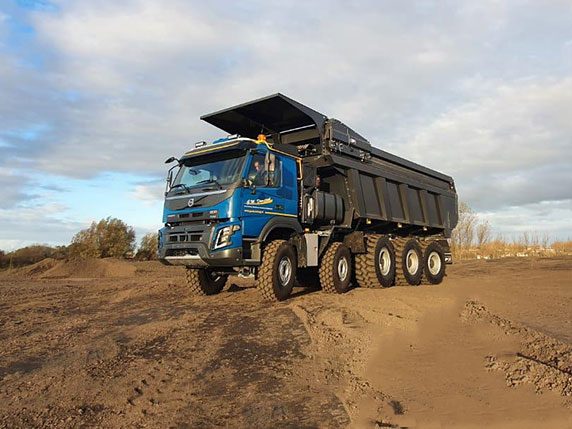 A new BAS Mining 10x6 pusher with single mounted tyres -with a payload of 54 tonnes- has been delivered to GM Damsteegt BV. This is the second truck that will be deployed on the OBA site in Amsterdam for the transport of asphalt granulate, amongst other materials, over a short distance on a self-built dump area.
PRODUCTIVITY, STABILITY & DRIVABILITY
Earlier this year, a similar truck has been deployed on the OBA site. Both the truckdriver as the contractor are very satisfied in terms of productivity, drivability and stability. Therefore, the other contractor on site decided to choose the same specifications. The 10×6 configuration with single mounted tyres provides the highest traction in the muddy underfoot conditions and on steep climbs. To meet the highest emission standards, the truck has a powerful 540hp engine (Euro 6).
The two 10×6 pushers on site will haul an average of 3,000 tonnes per truck per day. BAS Mining Trucks' Truck Monitoring gives the client real-time insight in the number of discharges, tonnes moved and fuel consumption.
REPAIR AND MAINTENANCE
Repair and maintenance are carried out by BAS Mining Trucks, onsite at OBA Amsterdam.